Wow! Labor Day Weekend already? This summer flew by! But I guess they usually do.
Did you know that Labor Day was first celebrated in New York in 1882? I could go on and on but…today, along with celebrating the working people of America, it also symbolizes the end of summer and back to school. Why sulk and be depressed that summer is almost over? Embrace it! Have a party! Make this simple and awesome dip for your Labor Day celebration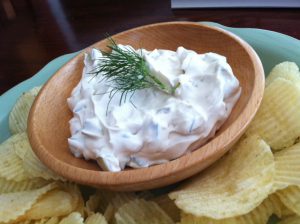 PUCKERED PICKLE DIP
8 ounces cream cheese, at room temperature
1/2 to 1 cup finely chopped Puckered Pickle Deli Dills, depending on how "pickle-ly" you like things
1 tablespoon Worcestershire sauce
Pickle juice (2-3 tablespoons or more)
Dill, for garnish, if desired
Combine pickles with the cream cheese and Worcestershire sauce and mix until well blended. Splash in a bit of pickle juice to thin the dip out a bit (add more depending how thin or thick you like your dip). Mix well (I like to use an electric mixer for this – saves time.)
Top it with a sprig of fresh dill to class it up!
Serve cold or at room temperature with potato chips. Dee-lish!
Have a great and safe Labor Day Weekend!